Dressage
For a long time fascinated by the Classical Dressage, I began to take my first lesson in the 90s, with diverse instructors, such as Christian Forlini, Dominique Flamant or Carlos Pinto.
It is in 1998 when I got acquainted Bernard Fénétrier, the ancient rider of the "Cadre Noir - Saumur", Judge International and Professor of equitation. Of this day, at least once a week we work together. It is this same year that I participated for the first time with official "Ceder Van Der Hof Van Aelden" in competition of training. Ceder was a member of our stables since 1995, year of his participation in the International Competition of the Friesian Stambeok in Leeuwarden in the Netherlands.
He was the first Friesian to compete in official dressage competition in France. Regrettably in 2003 his career and life stops abruptly, we were ready has to compete in the level St George.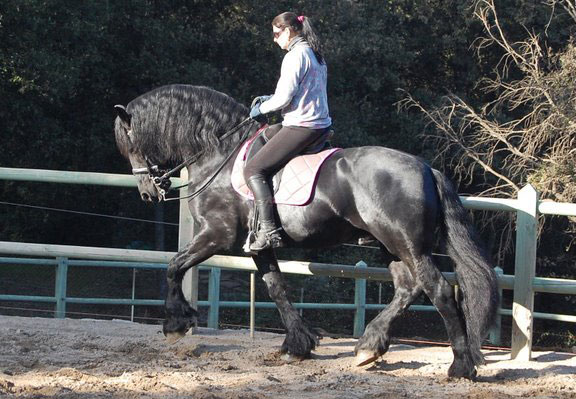 Since I "began again" the work with Epke Ster, stallion been born in 2001. We had bought him under the mother during a competition of breeding in the Netherlands. He has grows at home, he is a son of Brandus 345. It is a Friesian with an except size, then that he measures 1m71.